Georgia Health Insurance
Low cost health insurance quotes for Georgia residents from top companies.
Review the best health insurance in Georgia for an individual or family.
Save with a high deductible health insurance plan combined with a tax free health savings account.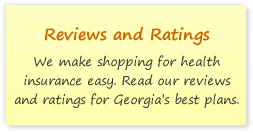 Shop and compare affordable dental insurance from multiple companies.
Affordable temporary insurance for individuals needing coverage from 30 days to 12 months.
Research coverage and costs from the best health insurance companies in Georgia.

Free custom health quotes from multiple carriers for your Georgia business.

We are an independent agency helping any individual or family in Georgia find affordable health insurance. We partner with some of the best medical insurers in the business to bring you low-cost rates all on one site.
Our agents have over 20 years of experience and can provide affordable health insurance quotes. Use our quote engine for instant quotes from top companies. Research the best health insurance for an individual or family in Georgia with our video reviews.

Affordable Georgia health insurance resources available to low income residents and any individual or family in need of low cost medical coverage.
Georgia provides medical benefits for the children of parents who are not able to afford health insurance with the Georgia PeachCare program.
Georgia residents with pre-existing conditions will likely find it difficult to purchase medical insurance may qualify for a guaranteed issue policy through the Affordable Health Care Act.

Learn how to choose the best health insurance for an individual or family. We've done our best to provide the guidance you need to find an affordable medical plan.
How to Choose your Health Insurance Plan
What's the difference between PPO, POS and HMO?
How to avoid junk health insurance plans
Remember, we are here to help. Call and ask us to email you a personal proposal.
HealthCare Reform
Since the Affordable HealthCare Act was passed in 2010 healthcare reform has had a positive impact on many Georgia Residents. The healthcare bill has provided complete coverage for preventive health benefits, removed lifetime caps and allowed children to stay on their parents policy up to age 26.
In Georgia the healthcare reform law will have the biggest impact in 2014 when all individuals will be required to either buy health insurance or pay a tax penalty. Insures will also be required to cover any individual with a preexisting health condition.
Get Quotes, Compare Rates and Save!
Individuals and families in Georgia have several quality carriers to choose from when shopping for affordable health insurance plans.
Our health insurance quotes will provide the best rates from top companies allowing you to compare georgia health insurance plans all in one place.
Watch are video reviews to learn more about each health plan, and if you need to speak with one of our health insurance advisors we are here to help answer any question so you can start to save today!
Free Healthcare Advice
We know that purchasing health insurance can be a challenge for most individuals and families here in Georgia. That's where we can help, when you work with one of our health insurance agents you get our years of experience and professional advice for free!
Health insurance rates are regulated by the Georgia Department of Insurance, so you won't find lower rates anywhere. In fact, we typically help individuals lower their health insurance premiums with our free healthcare advice. Let's get started, go ahead and contact us for and ask for a personal proposal.