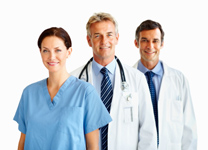 Georgia Physician Provider Directories
Find out which Georgia provider networks include your physicians. In order to receive the highest level of benefits from your health insurance policy make certain you are staying "In Network" by receiving your healthcare from providers listed on each carrier's provider networks.
All Georgia health insurance companies contract with doctors, diagnostic centers and hospitals to form their provider network. By accessing your healthcare from these providers you will be guaranteed the highest level of benefits from your Georgia health insurance policy.
Carrier Links
Details
Select the state of Georgia - then select any health plan. In Georgia Aetna uses their Managed Choice Open Access network for all plans.
Assurant uses the Aetna Signature Administrators network - a large national PPO network.

First select the state of Georgia. Then for the dropdown box "select a plan/network" scroll down until you see in bold type Medical (Individual & Families).

For On Exchange (subsidy eligible) health plans select the "Pathway HMO X" network.

For Off Exchange (non subsidy eligible) health plans select the "Pathway HMO" network for the HMO plans. New for 2015 Blue Cross will be offering Blue Open Access POS plans - these POS plans will use the "Blue Open Access POS" network.

Note: network names will be preceeded by a metal tier such as Bronze, Silver or Gold - this has no impact on the network, for instance the Bronze Pathway X HMO is the same as Silver Pathway X HMO.

Select 2015 For the Enrollment Year then enter your zip code.

p>CoventryOne has three networks depending on your home county.

CoventryOne HMO: (Atlanta area) - Cherokee, Dawson, Dekalb, Forsyth, Fulton, Newton and Rockdale. (Macon area) - Bibb, Crawford, Houston, Jones, Monroe, Peach and Twiggs. (Columbus area) - Chattahoochee, Harris, Marion, Muscogee and Stewart. (Savannah area) - Bryan, Chatham, Effingham and Liberty. (Albany area) - Baker, Dougherty, Lee, Sumter, Terrell and Worth. (Valdosta area) - Berrien, Clinch, Echols, Lanier and Lowndes.
(South Georgia area) - Appling, Coffee, Emmanuel and Wayne.

CoventryOne Hall: Hall County.

CoventryOne: All other counties.
Coverage Type: "Individuals and Families - Healthcare Reform & Humana One".
Network: "HMOx" for the HMO network in Atlanta, Columbus, Macon or Savannah.
"National POS - Open Access" when the POS plans are offered in your county.
"Humana/ChoiceCare Network PPO" when the PPO plans are offered in your county.

Select Georgia as your state.

Kaiser Permanente is an Health Maintenance Organization (HMO). As a Kaiser member most of your routine care will be provided at the local Kaiser Medical Centers. Kaiser also contracts with affiliated community physicians, some which will require a referral from your personal Kaiser physician. Your personal Kaiser physician has admitting privileges at local area hospitals.

In Georgia UnitedHealthOne uses the Compass network.